About "Shihougyu"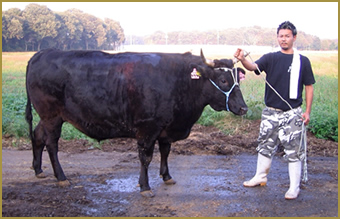 - Pasture -
At our main Shihougyu farm, located at the foot of Mt. Tsukuba in Ibaraki, we raise around 1500 heads of cattle. We operate a group of farms within the prefecture.
- About our brand name -
Mt. Tsukuba, one of Japan's hundred famous mountains, is also known as Shihou ("Purple Mountain"), due to the way it sometimes appears purple in the sunrise. We call our beef "Shihougyu", because it is raised in the foothills of the Purple Mountain.
- Our select cattle feed -
We provide our cattle with the safest and most secure feed in a Shihougyu-exclusive blend developed through years of trial and error, made from carefully selected rice straw and fresh water from the foothills of Mt. Ibaraki.
- Raising cattle with care -
We treat our cattle with lots of tender loving care, as though they are our own children. They are raised in clean, spacious stalls, under the constant, watchful eye of veterinary professionals, who keep meticulous records. We have a monument to our deceased cattle, where we offer daily prayers.