The premium domestic brand of black wagyu,raised at the foot of Mt. Tsukuba in Ibaraki Prefecture.
Shihougyu and Marushou Yokose Corporation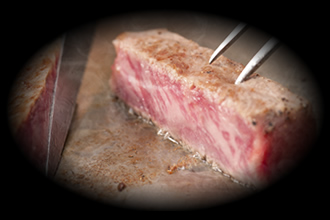 Founded by chairman Osamu Yokose, third-generation heir to a beef and pork wholesale business boasting over 100 years' history, our original premium brand "Shihougyu" was established through the joint efforts of ten of the prefecture's foremost master farmers.
Shihougyu is brought to businesses and individuals by Marushou Yokose Corporation.
We aim to bring our products to your table with absolute confidence.
Try our offerings — you will not be disappointed.
* All Shihougyu cattle undergo testing for radioactive materials. Ibaraki Prefectural certificates of safety are available.


- Marushou Yokose Corporation -
Postal code : 304-0051
location : 950 Kojima Shimotsuma-City,Ibaraki,Japan.
phone number : +81 0296443605
FAX number : +81 0296432693
E-mail:shihoubrand-1@yahoo.co.jp